MAGNOLIA SCHOOL DISTRICT ANNOUNCES LAST DAY SCHEDULE CHANGE The Magnolia School District will make the following scheduling changes to the last day of school on June 2. • All students in the District will be dismissed from school at 1:30 pm. Bus schedules will be adjusted the run at 1:30. • A district-wide staff meeting will be held at 2:00 in the Performing Arts Center on the Magnolia High School campus. • Superintendent John Ward will address the faculty at that time. Other items include the recognition of this year's retirees and acknowledgement of the Teachers of the Year from each campus and the 2023 District Teacher of the Year.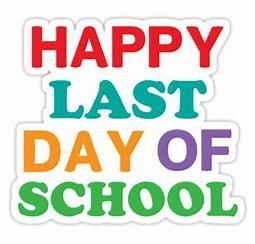 New Military Child e-newsletter The Arkansas Council for Military Children announces the start up of a free monthly e-newsletter! The first edition of the e-newsletter is expected to be sent out in June 2023. Click the link below to subscribe to the newsletter. You may unsubscribe at any time.
http://eepurl.com/iqP4UY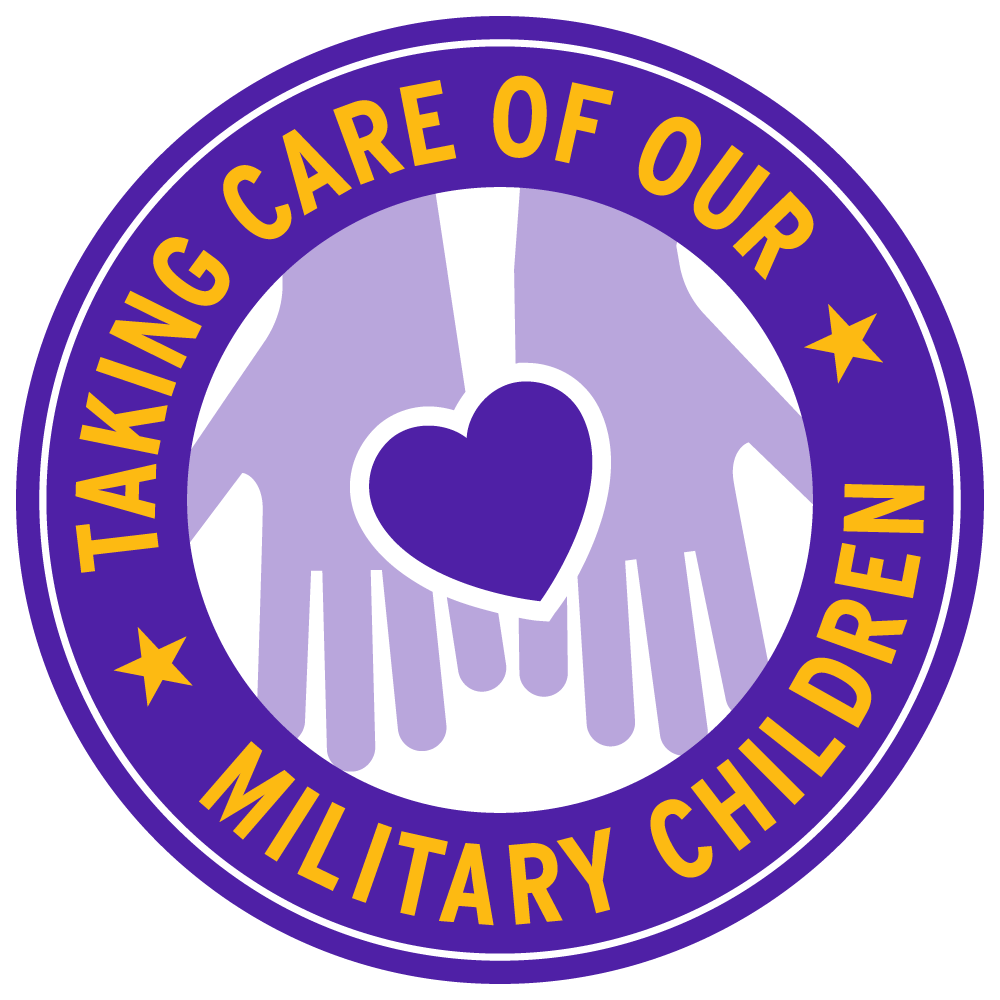 STUDENTS EARN MHS PLATINUM CLUB HONORS Seven students at Magnolia High School have earned the distinction of being a member of the 2022-2023 Platinum Club. To be eligible for membership in the prestigious club, a student must have a composite score of 30 or higher on the ACT. Members include: Left to right: Jasmone Bates, Blake Green, Hunter Manuel, Dorian Pierce, and Dalen Blanchard Not pictured: Khadija Karim and Rachel Martin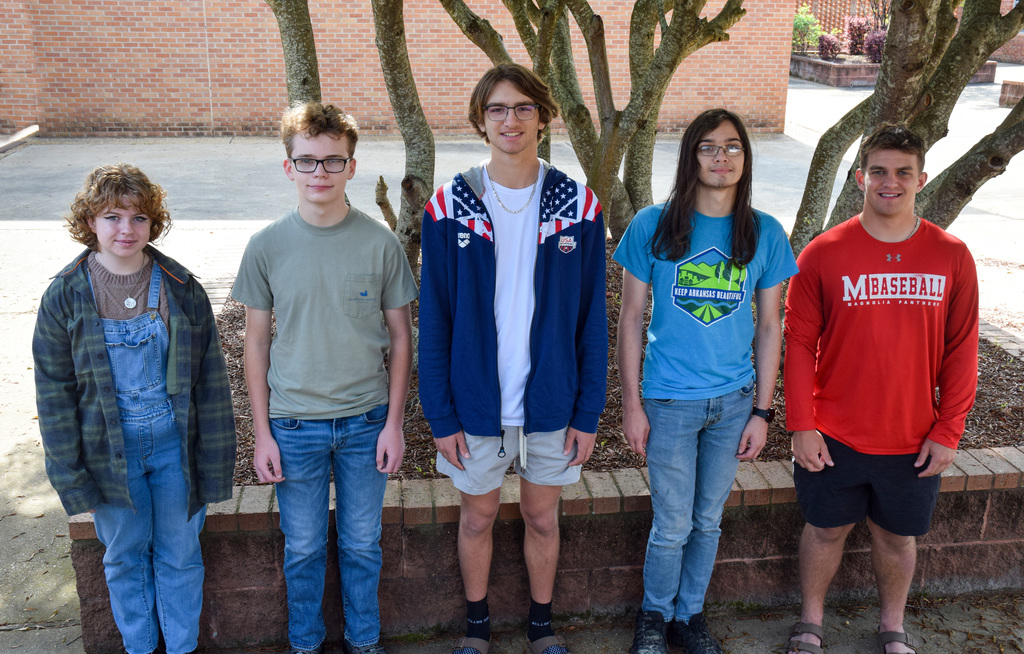 MAGNOLIA PUBLIC SCHOOLS FOUNDATION AWARDS SCHOLARSHIPS The Magnolia Public Schools Foundation (MPSF) recently awarded scholarships to three Magnolia High School seniors. Jase Carter, I'Shanna Ellis, and Angel Mayfield were each awarded $1,000. The Foundation was founded five years ago for two purposes: to provide grants to teachers for enriching the classroom experience for their students with opportunities above the basic experience and to provide scholarship assistance to qualifying high school seniors. In the past five years, MPSF has funded fifteen student scholarships and twenty teacher grants. Magnolia Public School alumni and patrons are encouraged to participate in these awards. If you would like more information about participation, you may call Jennifer Hubbard 870-904-2018/870-234-6356. You may also mail contributions to Magnolia Public Schools Foundation, P.O. Box 177, Magnolia, AR 71754. All donations are tax deductible. Pictured left to right: Jennifer Hubbard, MPSF board member; I'Shanna Ellis; Jan Story, MPSF board member; Jase Carter; Whitney Whitelaw, MPSF board member; and Angel Mayfield.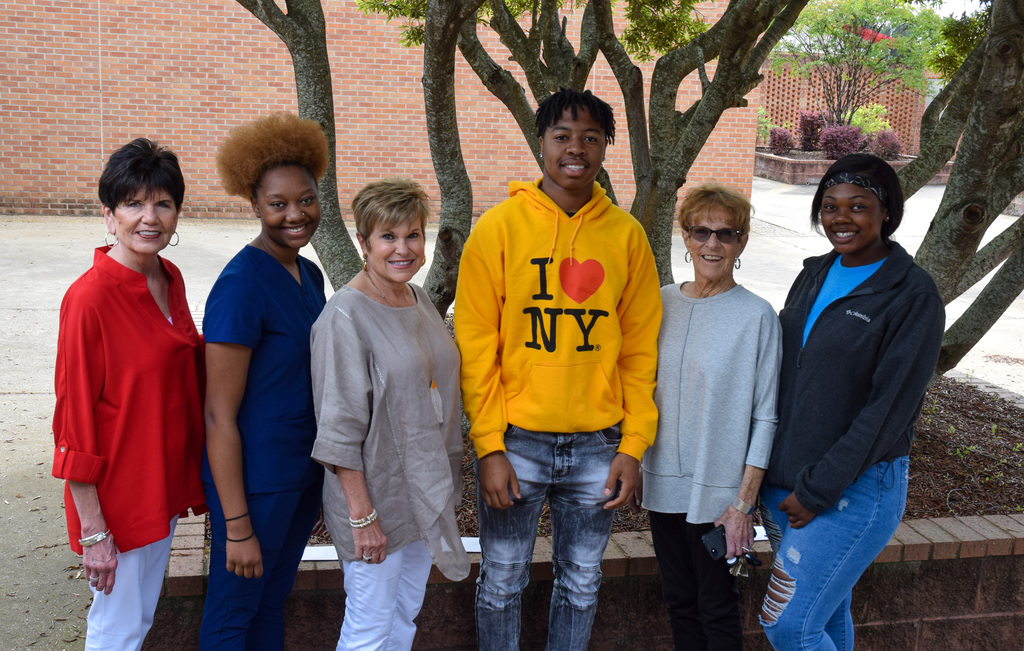 MAGNOLIA JUNIOR CHARITY LEAGUE AWARDS SCHOLARSHIP Magnolia High School seniors, Jasmine Glover and Jase Carter, were recently awarded a scholarship from members of the Magnolia Junior Charity League (MJCL). Each student received a $1,000 award that may be used to attend Southern Arkansas University or SAU-Tech. The members of the MJCL organization volunteer to promote projects that improve Columbia County by assisting the needs of the children of the community. Pictured: Amy Rogers (MJCL), Jase Carter, Jasmine Glover, and Bonnie Keith (MJCL)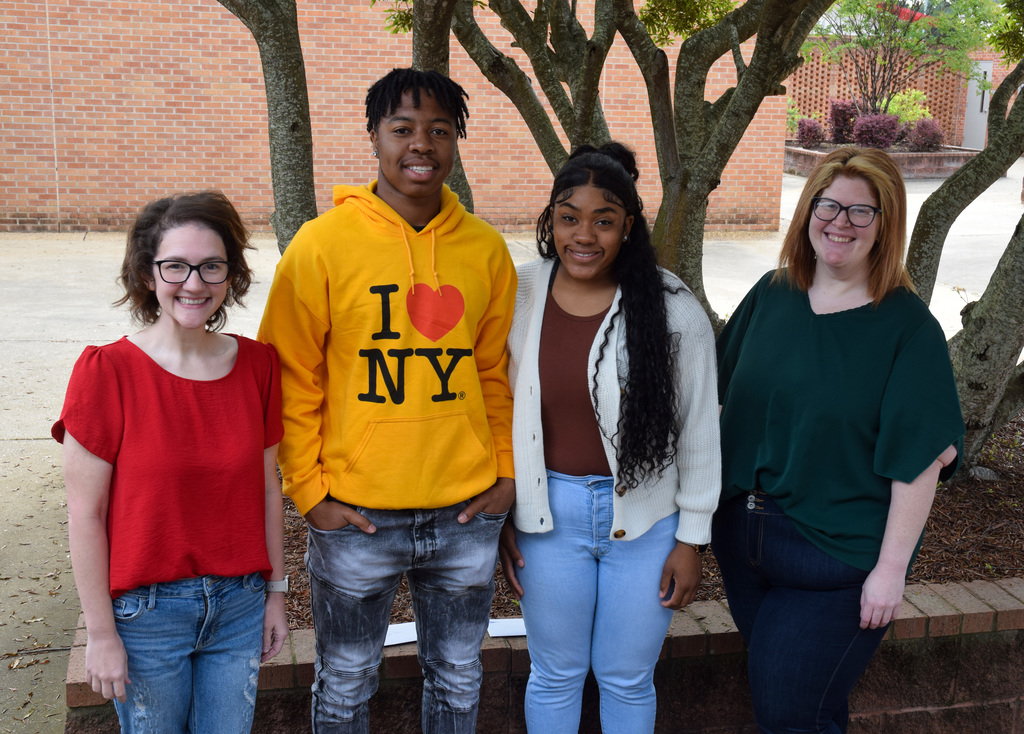 Connor Hamilton Receives Mary Brown Florence Scholarship Magnolia High School senior, Connor Hamilton, is the recipient of the 2023 Mary Brown Florence Scholarship. The amount of the award is $1,100, which will be sent to the school of Connor's choice. The criteria for this award, which was established in 1998, includes cumulative GPA, number of AP courses taken, ACT score, extracurricular activities, and participation in athletics or band.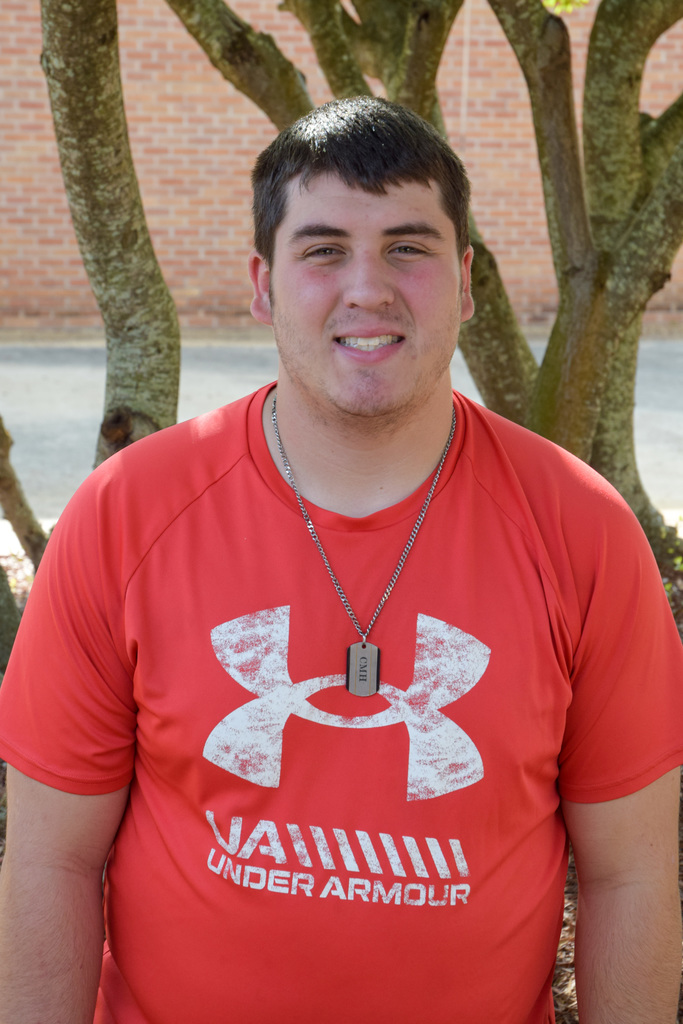 STUDENTS EARN MHS GOLD CLUB MEMBERSHIP Nineteen students at Magnolia High School have earned the distinction of being a member of the 2022-2023 Gold Club. To be eligible for membership in the prestigious club, a student must score 30 or higher on any of the four subtests of the ACT exam. Members include: Front Row: Claire Mayo, Morgan Middleton, Keylee Camp, Kathryn Watson Middle Row: Kendall Haire, Ashlyn Middleton, Hannah Gunnels, Magen Bond, Leighton Daniels, Caroline Daniel, Karley Lancaster Back Row: Jaliah Larry, Colin Herold, Kevin Cabriales, Jacob Lewis, Tristan Jones, Will Griffeth, Alexander Poulsen, Camden Smith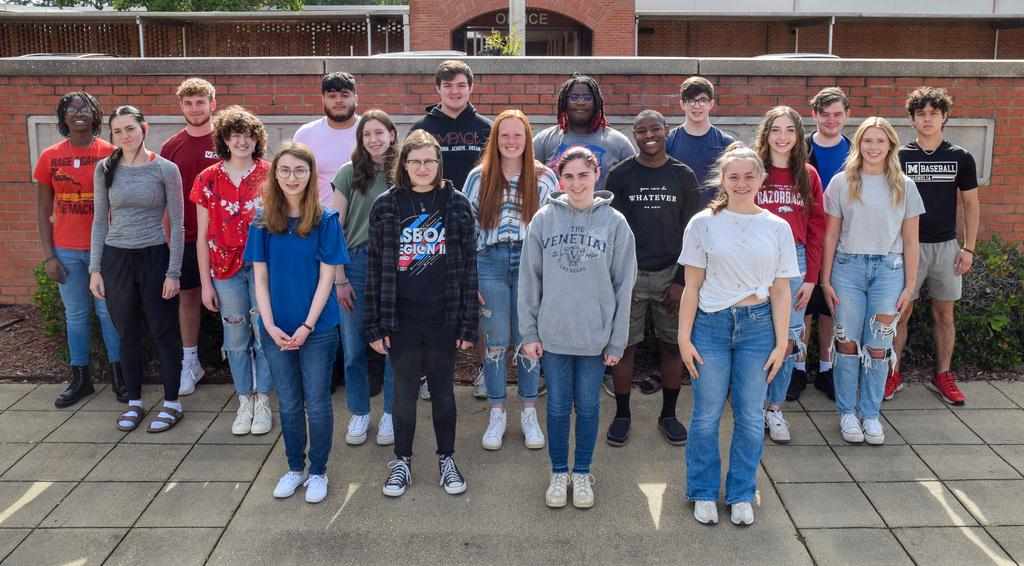 Magnolia High School Students Will Attend ALA Girls State Magnolia High School will have juniors Khadija Karim and Caroline Daniel participate in the 80th Session of the American Legion Auxiliary Arkansas Girls State. Harding University in Searcy will host the Girls State delegates this year. May 28 – June 2, 2023 Two local businesses help sponsor and pay the registration fee for the participants. Farmers Bank & Trust Co. sponsored Caroline Daniel and Peoples Bank sponsored Khadija Karim. Arkansas Girls State in an immersive civics education program designed for young women who have completed their junior year of high school. Since 1942, the Arkansas Girls State program has been working to teach future generations of Arkansans citizens to be actively involved in their communities and government at every level. The program informs them about the duties, privileges, and participation in the functioning of their government; and to help them grasp the meaning of some of the responsibilities, which they must assume when they become adults. The delegates elect their own officials, organize their own legislature, and have official visits to their respective counterparts in the capital. Once a student completes an application, a committee of teachers and a representative of the local American Legion Auxiliary make the decisions on who will attend Girls State based on the following qualifications: leadership, character and honesty, scholarship, cooperativeness, and community participation and service. Pictured: Caroline Daniel Not Pictured: Khadija Karim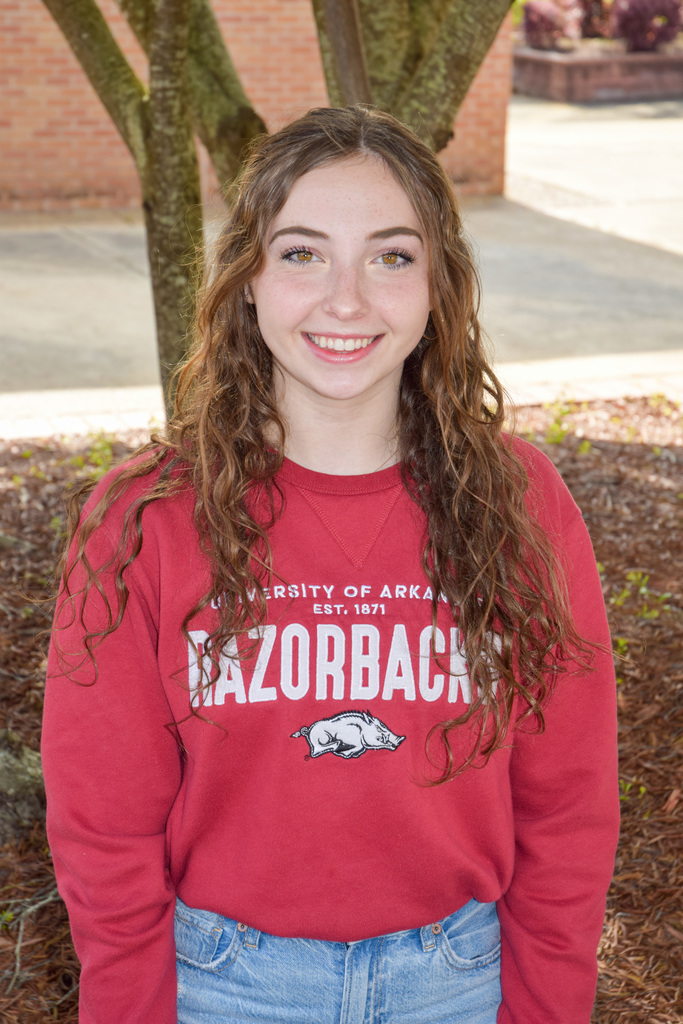 MALVIN CROSS AND JERMAINE GEORGE WILL REPRESENT MHS AT BOYS STATE Magnolia High School juniors, Malvin Cross and Jermaine George will represent their community and school at Arkansas Boys State 2023, an immersive leadership and civic engagement experience sponsored by the American Legion. Local scholarships were also provided to offset the cost of the program. Farmers Bank & Trust Co. sponsored Jermaine George and Malvin Cross was sponsored by Steve and Laura Crowell. The two will join more than 500 young men attending the program's 82nd session at the University of Central Arkansas in Conway from May 28 to June 2. "Arkansas Boys State is a legacy program that has produced remarkable local, state, national and international leaders," said Lloyd Jackson, executive director of Arkansas Boys State. During their week at Arkansas Boys State, Cross and George will be assigned a political party, city, and county. Throughout the week, they and their peers will administer a mock government, run for office, draft, and pass legislation, solve municipal challenges, and engage constituents. The experience at Arkansas Boys State will be guided by more than 60 volunteers who serve the program. The staff of volunteers includes college students and career professionals with interests and expertise in education, finance, industry, politics and government, journalism, and more. The week's activities, including keynote speakers, general assemblies, and election speeches, will be streamed live by Arkansas PBS on their Arkansas Citizens Access Network:
https://www.myarkansaspbs.org/arcan
.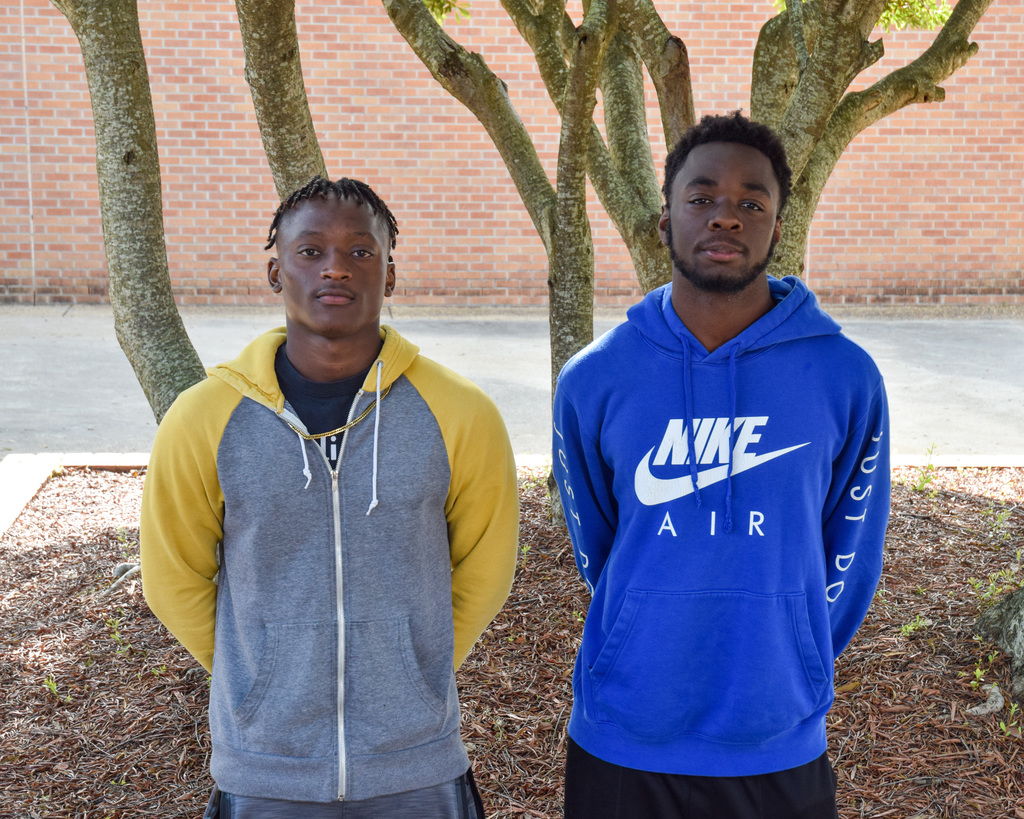 4A STATE BASEBALL TOURNAMENT SCHEDULE CHANGES Due to rainy weather in Lonoke, the MHS Panther baseball game has been rescheduled for Friday at 10:00 AM.

NATIONAL SCHOOL NURSE DAY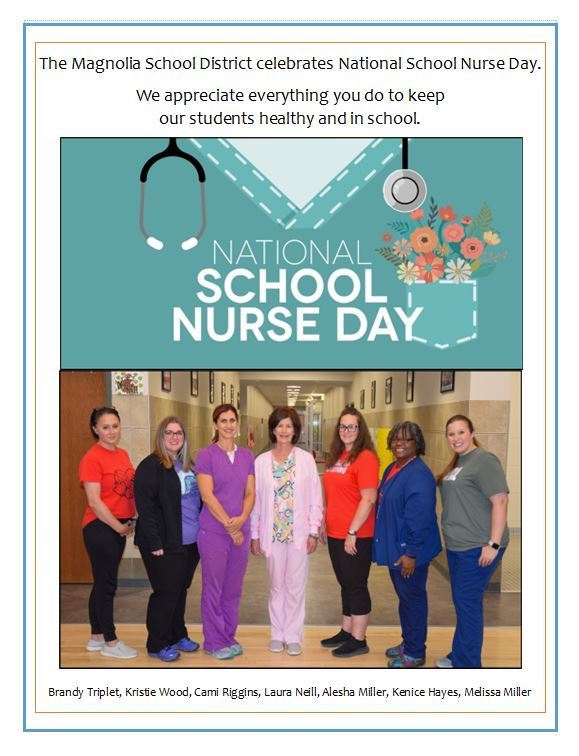 Magnolia READS came to an end today with the culminating events at East Side and Central Elementary Schools. Marsha Masters with Economics Arkansas, a partner in Magnolia READS, was a special guest at each event. In the video below, Mr. Ward and Penny Talley conclude this spring's event expressing gratitude to those who made this year's Magnolia READS a success. Click the link below to view the final Magnolia READS video.
https://youtu.be/feT2u-PSUaU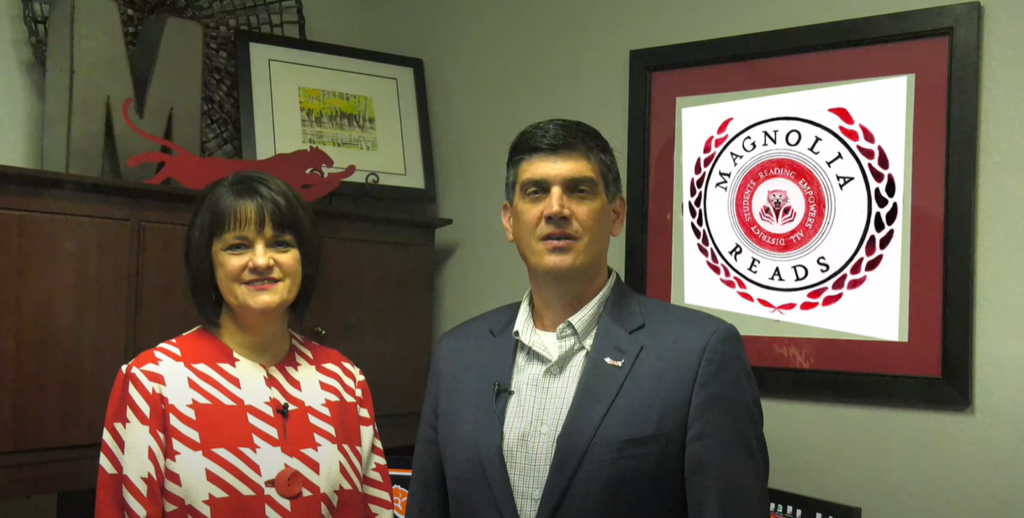 The final video in the Magnolia READS Video Series features 1991 Magnolia graduate, Rebecca Grafton Ray. Rebecca is the owner of a third-generation family business, Sara's, and the business she opened in 1998, Khakis. Click the link below to view the Sara's/Khakis video.
https://youtu.be/TPaNWeSpiiw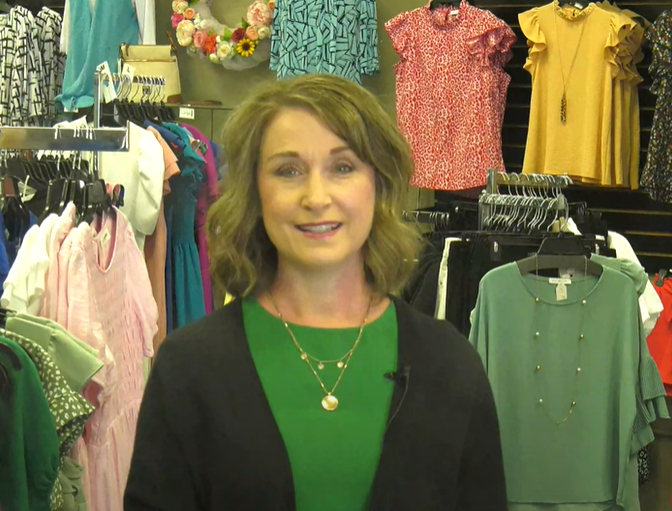 Arkansas Council for Military Children Click the link below to learn more about this council and how it is supporting our military children and their families.
http://eepurl.com/iqP4UY

The next multi-generational family business featured in the Magnolia READS Video Series is Farmers Bank & Trust. Molly Harsh Burns, Elizabeth Burns Anderson, and Chris Gosnell share the history of this fifth-generation business that was established in 1906. Click the link below to view the Farmers Bank video.
https://www.youtube.com/watch?v=cCR_UWTfMQg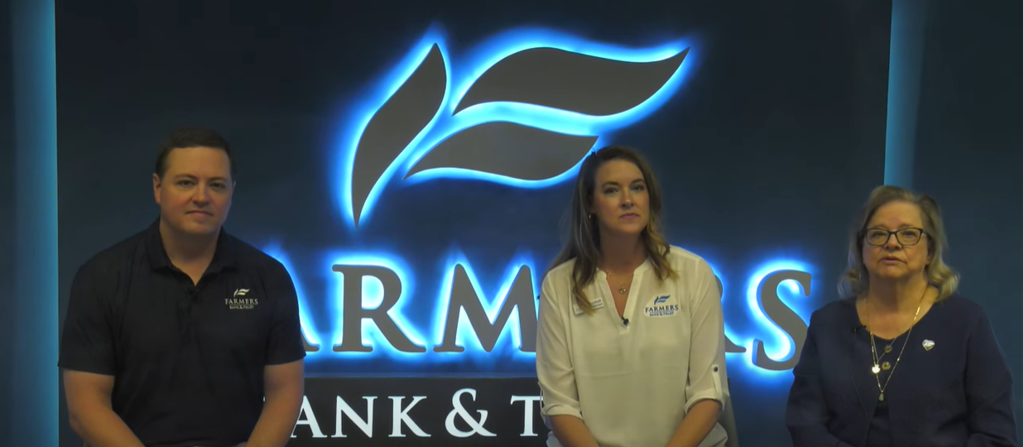 4A South Regional Baseball and Softball Tournaments Click below for more information.
https://5il.co/1tp1l

JEVAC, a precision machine shop specializing in products for the Military Aerospace Industry, is the featured multi-generational business in this week's Magnolia READS Video Series. Craig and Clay Cheatham, and Amy Cheatham Rogers share the history of this third-generation business started by 1952 Magnolia graduate, Jimmy Cheatham. Click the link below to view the JEVAC video.
https://www.youtube.com/watch?v=BfQTWVxXROM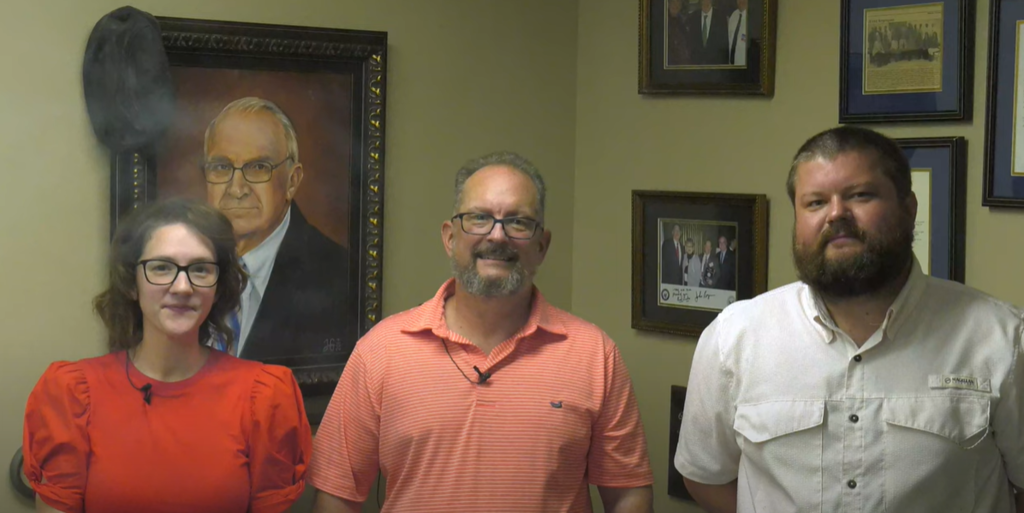 MHS BASEBALL TIME CHANGE Due to the threat of rain later in the day, the Panther baseball game with DeQueen today has been moved up from 5:00pm to 4:30 pm.

MHS Panther Softball The make-up Panther softball game with Malvern is scheduled for today in Malvern starting at 5:00 pm.

The MHS softball game with Malvern has been rained out. No make-up date has been decided at this time.